Price

RM0.00

Product SKU
product-1690009615743
Brand
SQM-Pavoni
Availability
1
Quantity
Description
Highlight
Chemical Composition:
COMBI SLOW 18-10-18 +2+15
Total Nitrogen (N)
18%
Ammonium Nitrogen (N)
2%
Ureic Nitrogen (N)
15%
Ureic Nitrogen (N) from Methylene-Urea
6%
Phosphate (P2O5) water soluble
10%
Potassium Oxide (K2O) water soluble
18%
Magnesium Oxide (MgO) water soluble
2%
Sulphur Trioxide (SO3) water soluble
20%
PAVONI COMBI SLOW 18.10.18+2MgO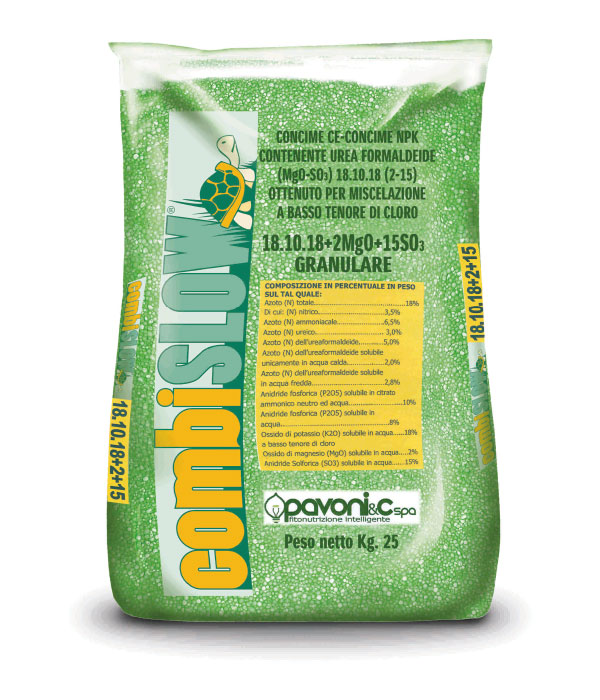 Bags kg. 25
NPK :18.10.18+2MgO
COMBI SLOW 18.10.18+2MgO is a GRANULAR NP FERTILIZER WITH SLOW RELEASE NITROGEN
COMBISLOW 18.10.18+2MgO is a granular product that includes in its formulation monoammonium Phosphate and Potassium nitrate providing immediate availability of nutrients while a controlled release of Nitrogen comes from Methylene-Urea. The latter has good nutritional efficiency and a low salinity index. The slow release of Nitrogen encourages a balance between top-growth and root development.
Dosage and usage procedures
| | |
| --- | --- |
| Citrus - Top Fruit - Grapes - Olive | 600-800 Kg/Ha |
| Cereal | 200-300 Kg/Ha |
| Field and Greenhouse vegetables | 400-800 Kg/Ha |
*Dosage always depends on different factors (plant's age, growth stage, climatic conditions, temperature, etc) and can be increased or decreased according to your requirements. Dosage depends on crops typology and fertilizer concentration.
What's in the box
Pavoni Combi Slow (25kg) x1